Yesterday I went on my first pelagic trip. It was led by Paul Guris of See Life Paulagics. The Captain Lou VII left out of Freeport, New York bound for Chicken Canyon and the Glory Hole (I don't know how these undersea features got their names; possibly the same way the Grand Tetons did.) around 6:20 A.M. I hadn't been on an extended boat trip for 25 years; and the last ones I went on made me horribly seasick, so I was more than a little nervous. However the seas were calm and so was my stomach. The trip was full with 50 or so people, but I only noticed one person chumming over the side of the boat the whole day.
First birds of the day were four Great Black-backed Gulls before we even left Jones Inlet. These were closely followed by four Common Loons. Long-tailed ducks were also spotted (though not by me). Not a big deal. I see those from shore relatively often this time of year.
As we moved out into the open ocean, the birds (and the seas) began to pick up a bit. The deck hands started cutting up fish and tossing it off the back of the boat to attract a flock of gulls, most Herring and Great Black-backed. There were some Ring-billed Gulls early on and close to shore, but as we got further out they dropped off.
The original plan was to run fast to the Glory Hole (about 65 kilometers out) to catch birds early in the morning and then work our way back slowly. However, we ended up doing almost the reverse. Not more than 20 minutes out, the boat idled up to get a close look at a pair of murres which turned out to be a Thick-billed Murre (the only one we would see all day) and a Common Murre, my first life bird of the trip. I didn't get such great looks at these two, but throughout the day the Common Murre proved to be, well, common. I saw lots more in breeding, non-breeding, and molt plumage throughout the day.
Relatively close to shore we also spotted small flocks of Surf Scoters, Black Scoters, and White-winged Scoters, all year birds for me. (After this trip my year list is up to 95 species.)
As we got further out, we began to spot Dovekies, another alcid. These were quite far off, flying just below the horizon; and I was afraid my binoculars were not good enough to spot them in the weak light. We passed three or four small flocks before I finally picked some out. At this point they were judged mainly by size and shape. They looked like starling flying across the water, and although I was willing to trust the leaders' identification, I couldn't claim to have identified them myself. However, as we got further out we began to see more and larger flocks closer to the boat. Eventually we had clearly identifiable dovekies flying within a few meters of the boat. They look like little nerf footballs with penguin wings. (Like penguins they're diving birds that catch fish under water. Unlike penguins, they can fly too.) The total count by the end of the day was 1615 dovekies, more than doubling the trip leader's previous record for a single day.
At several stops on the way out, we saw razorbills. As with the dovekies, the first couple of encounters were very far out and required great binoculars, a lot of experience, and a real knowledge of very small details of shape to confidently identify the birds. However once again we found a small flock just 20 meters or so off our bow that permitted much less experienced birders like myself confident views. Overall though these weren't nearly as common as dovekies (though they weren't our rarest alcid either. That would come later.)
Also of note were the Northern Gannets. The further out we went, the more gannets we picked up and the more gulls we lost. I'd previously seen gannets only from shore where they were identifiable, but not especially distinctive. Here, there were dozens at a time flying within two or three meters of the boat so you could see every detail of their plumage and face. Up close they're very striking birds. You could also watch them diving after the chum at the back of the boat. They aim into the water at about a 70 degree angle and pull up their wings just as they're going into the water. The water was clear enough to follow their bubble trail under the water and watch them pop back up again a few seconds later.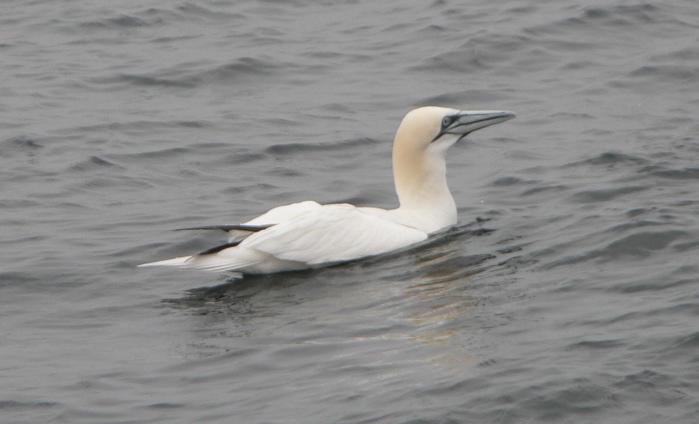 Cruising through Chicken Canyon, we picked up a Red-throated Loon; but mostly continued to watch the gannets, gulls, and dovekies. A little before noon a second or third winter Lesser Black-backed Gull joined the gull flock. This is mostly a European bird, but they're regular vagrants to the East Coast every winter. This was the second one I'd seen this year, but was a lifer for some watchers. A little later we got Bonaparte's Gull.
Around this point we also had the first of several adult Iceland gulls join the flock (my third life bird of the trip). I watched it but didn't have the right field marks to really pick it out. More joined later and I watched carefully. I think I got it, but I really only had one of the field marks: a much whiter head than a Herring Gull at this time of year. I made the mistake of watching from the top of the boat rather than the bottom. The two we had then were adults with more than a usual amount of black in their wings; and I later learned that if you watched from below the bird on the aft deck you wouldn't see any black underneath the primaries, unlike a Herring Gull where the black is prominent. (It's often not enough to see a bird once. You have to see it multiple times just to learn what to look for.)
Around noon people began breaking for a lunch inside the cabin. The odor of bad hamburgers frying in a small space was a little overpowering so I stayed outside till 1:00 or so. Several times we had Black-legged Kittiwakes (another lifer for me) flying by or joining the gull flock at the back of the boat. I definitely had at least one of these birds: i.e. I clearly saw the bird that the trip leaders were calling a juvenile kittiwake; but without them I wouldn't know it was a kittiwake, and I was curious to know how they could tell without a scope. I asked later, and was told that kittiwakes have a more bouncy, acrobatic, jumpier flight than other gulls. I guess when you've been on hundreds of these trips that's enough to go on. Personally I'm still trying to reliably call Ring-billeds from Herring Gulls in flight, and I see both of those almost every day here in Brooklyn.
The captain tried to catch up with some fishing boats in the area because they often attract interesting gulls; but we never found any. A little later he dropped anchor over a ship wreck to check it out as a potential fishing spot. The nice thing about good fishing spots is that fishing birds like gannets and alcids know them too, so a good fishing spot is likely to be a good birding spot. At this point we spotted the second Lesser-Black-backed Gull of the day, this one an apparent adult or maybe 3rd winter. Fortunately the gull stuck around for awhile while the captain fished, because it didn't look quite right. In particular the legs were pink instead of yellow. Numerous photographs were taken (including by me as well as by people with serious cameras) and they will be analyzed later. No one wanted to put a name on this gull for sure, but on the trip home everyone was reviewing the field guides and looking for other black-backed gulls that might be truly exotic for New York waters. If the photos do prove it to be something really unusual, I'll post about it here later.
We were running late and a storm was coming up from south of us, so we turned and began running for port about 1:30 or 2:00. (My recollection on exact times is a little fuzzy since I'm going on memory here. I didn't want to take my usual written field notes on a wet, moving boat.) Maybe 2:30 one of the trip leaders yelled "Puffin!" from the starboard deck. It took a few minutes to bring the boat around, and there was little hope we'd relocate the bird; but miracle of miracles, there it was: a first year Atlantic Puffin (a lifer for me and our fifth alcid of the day) apparently completely unconcerned about a large boat full of strange people wearing binoculars pulling up within a few meters of it. It just kept swimming affording great views of its disproportionately large bill that clearly marked it as a puffin.
By this point I was quite tired (I'd woken up at 4:00 A.M. to reach the dock by the 6:20 A.M. castoff) and we were mostly seeing more of the same so I went back to the cabin to rest. Around three though the call went out that a Glaucous Gull (another lifer) had joined the gull flock at the back of the boat, so I grabbed my coat and binoculars and headed out the starboard door to check. This one was obvious, a ghostly white gull with almost no black at all. However, it wasn't nearly as large as a Glaucous is supposed to be (almost as big as a Great Black-backed) and the consensus rapidly shifted to second winter Iceland Gull. I wasn't too disappointed at losing the lifer, because while I thought I'd had Iceland Gull earlier in the day, this one was far more obvious (and attractive).
That was the last bird of the day for me, and it was a good one. I stayed in the cabin resting for the remainder of the tip home. We arrived at the dock a little late, about 6:45 just as it was beginning to snow. Total species count for the day was 18 including five life birds:
Red-throated Loon
Common Loon
Northern Gannet
Surf Scoter
White-winged Scoter
Black Scoter 50% (Only seen once, and some people think these might have been Surf Scoters)
Long-tailed Duck ((not seen by me but reported by others on the trip))
Ring-billed Gull
Herring Gull
Iceland Gull
Bonaparte's Gull
Lesser Black-backed Gull
Great Black-backed Gull
Black-legged Kittiwake
Dovekie
Common Murre
Thick-billed Murre
Razorbill
Atlantic Puffin
We also saw several species of marine mammals including:
Long-finned Pilot Whale
Bottlenose Dolphin
Common Dolphin
Harbor Porpoise
Atlantic White-sided Dolphin
Here's a common dolphin playing in the wake of our boat:
I'm not sure I've got that list quite right, since again I wasn't taking notes; but I think that's what we saw. If necessary I'll correct it after Paul's official trip report comes out. Update: that essentially matches Paul's report, except for Black Scoter. I added Harbor Porpoise.
Paul said this was his best winter pelagic ever; and although I've only been on one, I'm inclined to agree. I'll be back in September for the summer trip to look for terns, jaegers, storm-petrels, and shearwaters.