One frequent question novice birders ask is which field guide they should purchase? You can find a bewildering array on store shelves. Which ones are actually useful in the field and which ones are essentially coffee table books? Fortunately the decision isn't hard. North American birders (more specifically AOU area birders) generally divide into two groups, followers of the old testament and followers of the new.
The Old Testament is Peterson's Field Guide to the Birds. This is the original "field guide"; and after numerous updates over the years, it's still an excellent book. It's available in both Eastern and Western editions. Birders usually only carry only one into the field (the choice depending on location). This is partially for weight and portability, but more importantly to reduce the number of birds you have to consider when an unfamiliar bird pops its head up out of the grass.
You'll still see birders carrying Peterson's in the field; but these tend to be older, more exerienced birders who've been using it for decades and who can cite page number and paragraph for any species you care to name. These birders rarely need a field guide in the first place, at least not in their home territory. For most birders, I recommend one of the Sibley Field Guide to Birds of North America, either Eastern for east of the Rockies or Western for West of the Rockies. Since the Sibley Guides were released a few years ago, they've almost completely displaced Peterson's among birders who actually need field guides.
One warning: Sibley's Eastern and Western field guides are both derived from the much larger Sibley's Guide to the Birds. Sibley's Guide to the Birds is an attractive coffee table book and an excellent reference. This book covers the entire AOU area, and has larger, prettier, and more numerous pictures. It also feature more alternate pumages than either of Sibley's field guides. For instance, the full book has seven pictures of the Wandering Tattler, but the Western Guide only shows four, omitting juvenile plumage and two of the breeding adult in flight. However, the full book is much too heavy, large, and comprehensive to make a good field guide. Most experienced birders have a copy at home, but few would take it into the field.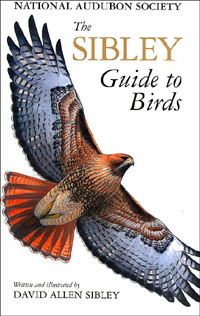 I have occasionally found a birder who swears by the National Geographic Guide, though most birders swear at it instead. It does show more accidentals than the other guides which is nice if you happen to spot one, but also means more birds to look through to find the more common species. This problem is exacerbated because, unlike the other guides, the National Geographic doesn't publish separate western and eastern editions.
There are numerous other field guides out there. The Kaufmann Field Guide to Birds of North America is an interesting hybrid of photographic and painting techniques, but hasn't really caught on. The photos in the Audubon Society Field Guides are very pretty, and make it nice bathroom reading; but they aren't really suitable for field identification. Before I knew what I was doing I used the Audubon Guide as my primary guide. I only ever successfuly identified one unknown bird out of that guide (the relatively easy Gray Catbird), and misidentified many more. (Identifying sparrows from photographs is hopeless.) I've been far more successful since I switched to Sibley.
Any guide you enjoy reading is fine for perusal and entertainment, but for serious field use in the AOU area, it's either Old testament or New.